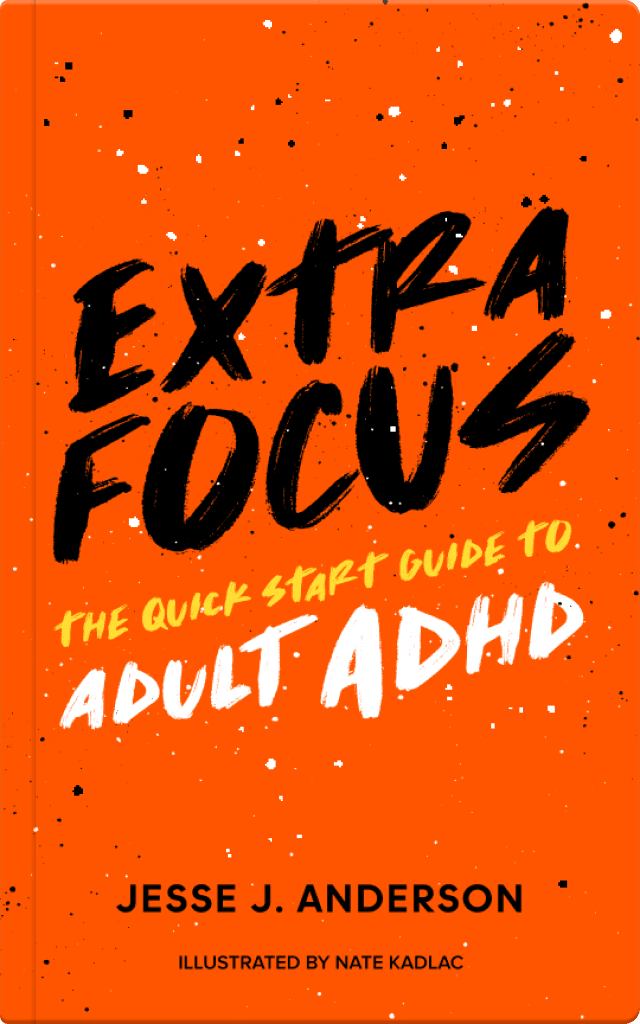 Order your copy now
Extra Focus: The Quick Start Guide to Adult ADHD
Your starter guide to understanding your ADHD brain and learning a smarter way to find motivation.
About the Book
Written by an adult with ADHD for adults with ADHD, Extra Focus provides the compassionate understanding and practical strategies you need to stop struggling and start thriving.
Jesse J. Anderson draws from his personal journey of being diagnosed with ADHD as an adult to offer encouragement, motivation, and strategies tailored for ADHD brains.
You'll discover:
The 4 Cs of Motivation framework

for driving action and building momentum

Practical advice for developing habits and routines

that don't feel like cruel and unusual punishment

Tips for managing your energy and

avoiding ADHD burnout

Navigating the clockless mind

, including strategies for time estimation and managing chronic lateness

Memory techniques

to stop losing track of tasks, ideas, and your car keys

Strategies for coping with success amnesia

, imposter syndrome, rejection sensitivity, and shame spirals
Praise for Extra Focus






Step 1
Get your copy of Extra Focus
Step 2
Claim your free bonuses
Order the book then forward your purchase receipt to book@adhdjesse.com to receive the following bonuses . . .
Discussion/Reflection Questions
Start a book club with friends or family and use these questions to guide your discussions, or use them as a guide to reflect on the book on your own.
Motivation Cheat Sheet
A printable guide with prompts and ideas to help find motivation when you're feeling stuck, using the 4 Cs of Motivation to inspire you to take action.
ADHD Strategies Reference Sheet
A reference sheet list of ADHD strategy summaries from the book. Hang it on your fridge or in your office as a reminder!
ADHD Resources Guide
A curated list of ADHD resources to help you continue your ADHD journey.
Step 3
Share on social media
Take a photo of yourself with the book and share it with the hashtag #extrafocus so I can thank you!
Inside the Book
Extra Focus is designed to be ADHD-friendly. Chapters are short and easy-to-read. Paragraphs are succinct, to the point, and don't stretch on forever over multiple pages.
You won't find any long, boring walls of text here.
The book is packed with actionable advice and tips you can start using right away. And we'll cover the fundamentals behind how ADHD affects your day-to-day life (and what you can do about it).
It features beautiful illustrations by designer Nate Kadlac to help you visualize the concepts and ideas. (And just to make it a little more fun.)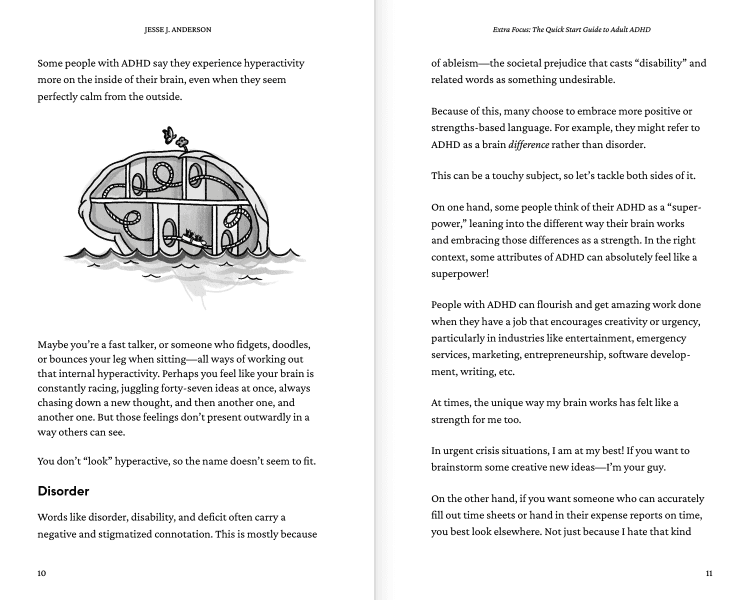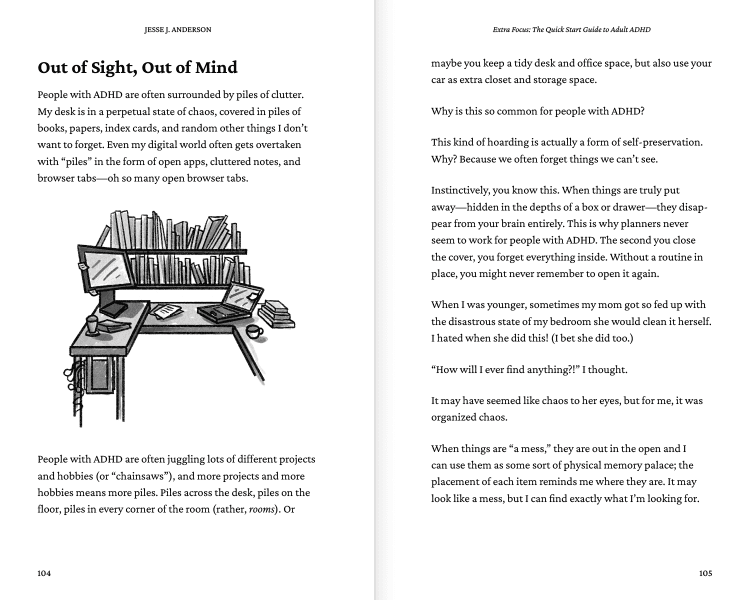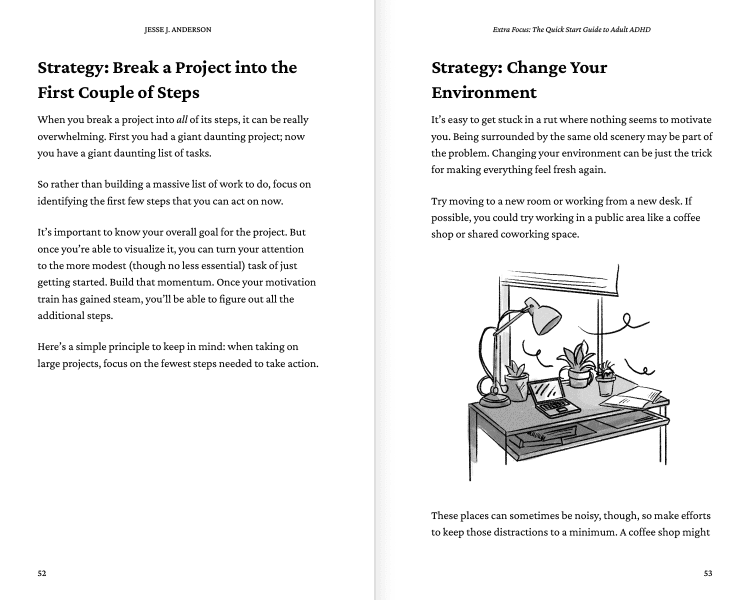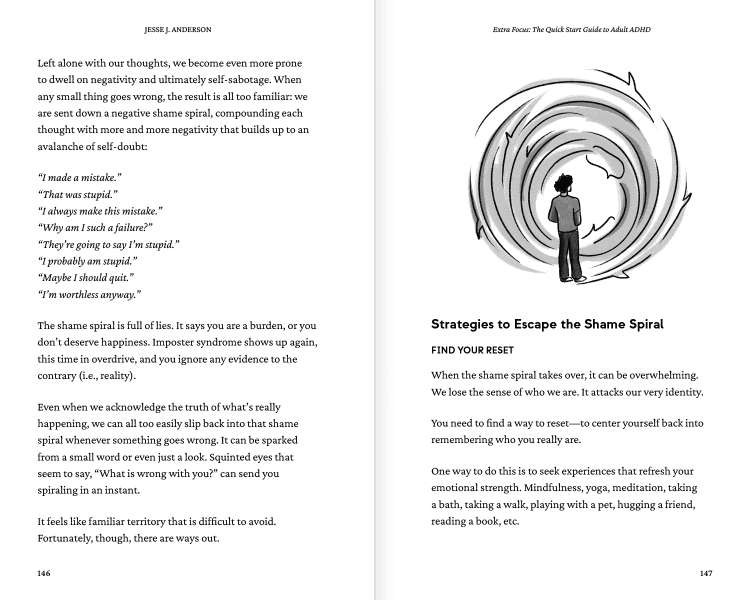 Get your copy of Extra Focus
About the Author
Jesse J. Anderson is a writer, speaker, coach, ADHD advocate, and maker of things.
Diagnosed at 36, Jesse writes about his insights and experiences living with ADHD in the weekly newsletter, Extra Focus, helping over sixty thousand readers navigate their own ADHD journeys or better understand their loved ones.
He is known for his humorous, relatable, and insightful posts about ADHD under the handle @adhdjesse, and has been featured in publications includingToday and Huff Post.
He is still trying to reach his "potential," but writing this book is a good start.
International Editions
English Language
Other Languages
Extra Focus is not currently available in any other languages.
Note: commissions may be earned from links on this site.
© 2023 Vada Press. All rights reserved.